JOHN CONLEE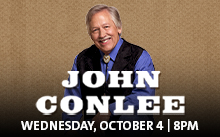 Generational performer John Conlee brings timeless hits to Tulsa Oct. 4
Country artist, John Conlee, has embraced a music journey spanning two decades and thriving with authenticity. Nonetheless gifted with incredible music talents, Conlee largely enjoys devoting his time into his 32- acre Nashville farm or pursuing hobbies like woodworking and gunsmithing.
Raised on a farm in Kentucky, Conlee's kinship for farming prompted his participation in 9 Farm Aid concerts, resulting in $13 million raised for the cause. In the late 70's, Conlee's career ignited with hits like "Rose Colored Glasses" and "Back Side Of Thirty." His unique voice consistently threaded his countless hits together. Remarkably, he maintained a steady path, working with manager Dave Roberts and producer Bud Logan since the beginning.
Conlee later ventured with Columbia Records before eventually signing with 16th Avenue Records, aligning with his Grand Ole Opry membership since 1981. The narrative of Conlee's enduring success and persistence shine through.
For more information on John Conlee, visit www.JohnConlee.com
For More Information Call: 918-384-ROCK
Will Call:5:00pm | Doors Open:7:00pm | Showtime:8:00pm