Featured Events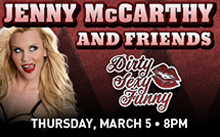 Jenny McCarthy's Dirty, Sexy, Funny highlights the scandalous comedy of an eclectic cast of female comedians - Paula Bel, Tammy Pescatelli, Lynne Koplitz and April Macie.
Jenny McCarthy's honesty, humility and humor have enabled her to transcend the boundaries of her roles as comedian, actress, host, best-selling author and influential activist in the world of healing and preventing autism. When she first made her own experience with her son Evan's diagnosis and subsequent recovery from autism, her unique ability to articulate the unspoken words of thousands of mothers and fathers across the world was recognized immediately.
A highly-regarded NY Times Best Selling author, McCarthy's books include the bestsellers Belly Laughs, Baby Laughs, Life Laughs, Louder Than Words: A Mother's Journey in Healing Autism and Mother Warriors: A Nation of Parents Healing Autism Against All Odds, LOVE, LUST, AND FAKING IT: The Naked Truth About Sex, Lies, and True Romance. Healing and Preventing Autism, co-written with Dr. Jerry Kartzinel, BAD HABITS: Confessions of a Recovering Catholic, and her latest book hit stores May 2014, Stirring The Pot: My Recipe For Getting What You Want Out Of Life which also landed on the NY Times Bestseller List. Upon completion of her 10th book, Jenny decided to re-focus her attention on her first love – TV, radio and comedy. MUST BE 21 TO ENTER.
Buy Tickets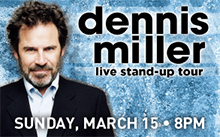 For more than two decades, Dennis Miller has been entertaining audiences with his views on American culture, current events and politics. He currently hosts a syndicated radio show that streams online, performs stand-up and is a regular contributor for "The O'Reilly Factor" on the FOX News. Miller has appeared in numerous movies, including "Disclosure," "The Net," "Murder at 1600," "Joe Dirt" and "What Happens in Vegas." And has authored "I Rant Therefore I Am," "The Rants," "Ranting Again" and "The Rant Zone," which have all been New York Times best sellers. MUST BE 21 TO ENTER
Buy Tickets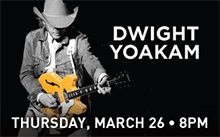 Few Entertainers have attained the iconic status of Dwight Yoakam. Since 1986, Yoakam has released 23 albums and compilations that have sold more than 25 million copies. He has 12 gold albums and nine platinum or multiplatinum albums, including the triple-platinum "This Time." Five of those albums have topped Billboard's Country Albums chart, with another 15 landing in the Top 10.
Nearly 40 of Yoakam's singles have charted, with 14 peaking in the Top 10, including the hits "Honky Tonk Man," "Please, Please Baby," "Little Ways," "I Sang Dixie," "It Only Hurts When I Cry" and "Fast as You." Dwight is a 21-time nominated, multiple GRAMMY Award-winner.
Yoakam's most recent release is 2012's "3 Pears." The album includes collaborations with Beck, Kid Rock and Ashley Monroe. The album peaked at No. 3 on the Billboard Country Albums chart, and Rolling Stone named "A Heart Like Mine" one of the best singles of the year.
In addition to penning some of the most popular country songs of the last 25 years, Yoakam has also found success covering songs from a wide spectrum of artists. These recordings include Elvis Presley's "Suspicious Minds," Queen's "Crazy Little Thing Called Love," Cheap Trick's "I Want You to Want Me," The Clash's "Train in Vain" and the Grateful Dead track "Truckin'." MUST BE 21 TO ENTER.
Buy Tickets
UPCOMING