Featured Events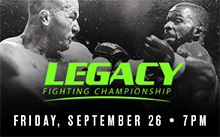 The main event is a light heavyweight title fight as Myron Dennis defends the strap against BJJ world champion Leonardo Leite.
Our co main event is a grudge match between two Tulsa favorites Andrew "the Sniper" Todhunter and Levi Avera.
Don't miss the pro debut of BJJ Legend and world champion Rafael Lovato Jr., BJJ champion Justin Rader faces Jarrett Rouse, Daniel "Ninja" Roberts, Ed Cline Jr. and more. Ten scheduled bouts! MUST BE 21 TO ENTER.
Buy Tickets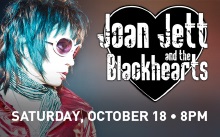 Joan Jett is an American rock guitarist, singer, songwriter, producer and occasional actress, becoming one of the most influential women in rock.
She broke into the music scene in 1975 as a founding member of the pioneering all-girl teenage punk band The Runaways, which released five albums and became a worldwide hit before disbanding in 1979. "The Runaways" told the band's story, with A-lister Kristen Stewart portraying Jett.
Jett has released eight platinum and gold albums and nine Top 40 singles, including "Cherry Bomb," "Bad Reputation," "I Love Rock 'N' Roll," "I Hate Myself For Loving You" and "Crimson and Clover."
Today, Jett is continuously touring the world, creating new music and running her own independent label, Blackheart Records, which launched in 1980, making her the first female artist to own and operate an independent record company. Jett released her 13th studio album, "Unvarnished," in Sept. 2013.
MUST BE 21 OR OLDER TO ENTER.
Buy Tickets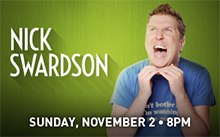 Nick Swardson, a comedian, has proven to be a triple threat in the entertainment industry. Since beginning his stand-up career at the age of 18, Swardson has had major success in his career along with being an actor and writer/producer.
In the summer of 2003, Warner Brothers green-lit a script Swardson co-wrote called "Suckaz," which later became the film "Malibu's Most Wanted." That same year, Swardson took on the recurring role of Terry Bernadino on Comedy Central's television series "Reno 911!" which ran until 2009.
Swardson soon caught the attention of Happy Madison Productions and became a fixture in the company. He began writing, co-writing and producing such projects as "Grandma's Boy" and "The Benchwarmers" and co-producing "I Now Pronounce You Chuck and Larry," with fellow stars Adam Sandler and Kevin James.
His first CD and DVD, "Party," on Comedy Central Records went Platinum. Following in 2010 was Swardson's first one-hour, stand-up special on Comedy Central, "Seriously, Who Farted?"
Swardson's most recent work includes his Comedy Central sketch show "Nick Swardson's Pretend Time," which ran from 2010 through 2012. He also voiced the role of Troy on FXX's animated show "Chozen" and performed in the well-known films "Just Go With it, "Jack and Jill," "Grown Ups" and the sequel, "Grown Ups 2."
MUST BE 21 OR OLDER TO ENTER.
Buy Tickets
UPCOMING