Featured Events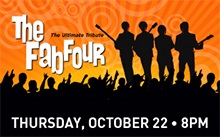 If you want to experience the best Beatles tribute ever, you won't want to miss The Fab Four-The Ultimate Tribute.
The Emmy Award Winning Fab Four is elevated far above every other Beatles Tribute due to their precise attention to detail. With uncanny, note-for-note live renditions of Beatles' classics such as "Can't Buy Me Love," "Yesterday," "A Day In The Life," "Twist And Shout," "Here Comes The Sun," and "Hey Jude", the Fab Four will make you think you are watching the real thing.
Their incredible stage performances include three costume changes representing every era of the Beatles ever-changing career, and this loving tribute to the Beatles has amazed audiences in countries around the world, including Japan, Australia, France, Hong Kong, The United Kingdom, Germany, Mexico and Brazil.
The Fab Four is truly the Ultimate tribute.
MUST BE 21 TO ENTER
Buy Tickets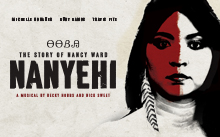 "Nanyehi" is the story of Nancy Ward, a legendary woman who was first honored in the 18th century as a Cherokee war woman, but then as a peacemaker during the American Revolution. The musical is written by Nashville-based, award-winning songwriter Becky Hobbs and playwright Nick Sweet. It will feature New York-based actress Michelle Honaker in the title role. This show is all ages.
There is a $5 discount for Cherokee citizens and for children 12 and under that can be purchased by calling the box office at 918-384-ROCK.
Buy Tickets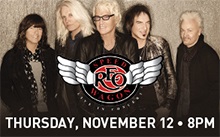 Formed in 1967, signed in 1971, and fronted by iconic vocalist Kevin Cronin since 1972, REO Speedwagon is a band where the main constant over the decades is a never-ending desire to give their all to their fans, year in and year out.
Formed loosely in the late '60s at college in Champaign, IL, REO (name after the precursor to the light truck) rode to gigs in station wagons, hopping from small gigs to even tinier gigs, just to get their name out. It worked, as fans quickly realized there was much more going on here than your average college party band.
By the early '70s, the band's unrelenting drive, as well as non-stop touring and recording, jumpstarted the burgeoning rock movement in the Midwest. It carved a path that was eventually followed by STYX, Kansas, Cheap Trick and more. Over the course of their career, the band has sold more than 40 million records and has charted thirteen Top 40 hits, including "Keep On Loving You", "Ridin' The Storm Out", "Time for Me to Fly" and "Can't Fight This Feeling". Hi Infidelity (1980) contained four US Top 40 hits and is the group's best-selling album, with over ten million copies sold. MUST BE 21 TO ENTER
Buy Tickets
UPCOMING