Featured Events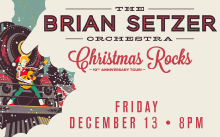 The Brian Setzer Orchestra, fronted by three-time Grammy Award-winner and Minneapolis resident Brian Setzer, brings their Christmas Rocks! 10th Anniversary Tour to The Joint. With a career spanning more than 30 years, Setzer has smash hits as founder/leader of The Stray Cats, his 18-piece Brian Setzer Orchestra and as a solo artist. His December concert will include Setzer's legendary guitar magic on re-imagined holiday classics and hits such as "Rock This Town," "Stray Cat Strut" and "Jump, Jive and Wail" and lots more.

The legendary artist formed his rockin' big band, The Brian Setzer Orchestra, in 1992 and set the stage for the '90s swing movement with his blistering performances. He has won three Grammy Awards including two in 1998 for Best Pop Instrumental Performance and Best Pop Performance by a Duo or Group with Vocal. Setzer has also found tremendous success in redefining Christmas music and has released three best-selling holiday albums–"Boogie Woogie Christmas," "Dig That Crazy Christmas" and "Christmas Rocks! The Best of Collection." MUST BE 21 TO ENTER.
Buy Tickets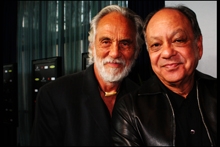 Successful beyond their wildest dreams, the iconic comedy duo Cheech & Chong defined an era with their hilariously irreverent, satirical, counter-culture, no-holds-barred comedy routines. Cheech Marin and Tommy Chong's phenomenal success began on the stand up comedy circuit which led to 9 hit comedy albums and 8 hit films, breaking box office records, shattering comedy album sales, garnering multiple Grammy nominations and mesmerizing fans for more than a decade.
With nine albums released from 1972 through 1985, Cheech and Chong were nominated for four Grammy Awards, winning the Grammy Award for Best Comedy Album with their third album, Los Cochinos, released in 1973. Big Bambu, their second album, was the biggest selling comedy record of all time in 1972 and remained so for many years. Their stunningly successful comedy streak transitioned to film in 1978 with their first movie, "Up In Smoke," the highest grossing comedy of 1978, topping $100 million at the box office. Cheech and Chong co-wrote and starred in a total of eight feature films together, all directed by Chong.
With Special guest War known for the hit songs "Low Rider", "Spill the Wine", "Summer", "Why Can't We Be Friends?, "The Cisco Kid", and "The World Is a Ghetto". MUST BE 21 TO ENTER.
Buy Tickets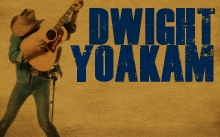 Few entertainers have attained the iconic status of Dwight Yoakam. The twenty-one time nominated Grammy Award-winner has sold more than 25 million albums worldwide, placing him in an elite cadre of global superstars. In 2013, Yoakam was named as the Americana Artist of the Year following his critically acclaimed 2012 release, "Three Pears." He has 9 platinum or multi-platinum albums, including the triple platinum "This Time", as well as 12 gold albums. Five of those albums have topped Billboard's Country Albums chart with another seven landing in the Top 10. More than 30 singles have charted, with eighteen going top 20, including the incomparable hits "Honky Tonk Man," "Please Please Baby," "Little Ways," "I Sang Dixie," "It Only Hurts When I Cry," "Fast as You" and "Thousand Miles from Nowhere." MUST BE 21 TO ENTER.
Upgrade to the VIP Experience HERE
http://dwightyoakam.tickets.musictoday.com/DwightYoakam/moreInfo.aspx?event=159121&outlet=2601
to meet Dwight, guarantee your seat in the first two rows and more!
Buy Tickets
UPCOMING