Featured Events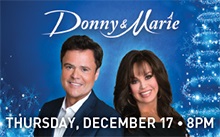 With more than 90 years in show biz between them, Donny & Marie are bringing Holiday classics along with their chart-toppers like "Puppy Love," "Paper Roses," and "A Little Bit Country, A Little Bit Rock N Roll." Add in sibling humor, their supreme Las Vegas band and dancers, along with high-energy style and dance numbers and this is one production that is total entertainment for the young and young at heart.
Donny & Marie have collectively recorded 142 albums, selling over 100 million copies with 51 Gold and Platinum recordings. They have starred in their own television series, specials, documentaries and numerous programs throughout the world. Collectively and individually, they have sold out venues worldwide, breaking box office records and received countless awards.
MUST BE 21 TO ENTER
Buy Tickets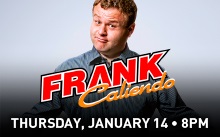 Frank Caliendo is well known for his comedic impressions of celebrities as well as sports and political figures. His impersonations span the likes of actors such as Morgan Freeman, Al Pacino, Robin Williams and Robert DeNiro; politicians George W. Bush, Bill Clinton and Barack Obama; broadcasters John Madden, Charles Barkley and Jon Gruden; and talk shows hosts Dr. Phil and Jay Leno.
The American comedian and impressionist is also known for his 10-year run on "FOX NFL Sunday Pregame," his best known role as a cast member on "MADtv" in the early 2000s, and starring in the self-titled TBS sketch show "Frank TV."
He currently serves as a cast member on ESPN's "Sunday NFL Countdown" and is a regular on the talk show circuit, performing on shows such as "The View" and "The Tonight Show."
MUST BE 21 TO ENTER.
GO VIP and Meet Frank Caliendo!
"Be Frank" VIP Meet & Greet Experience Includes:
· Premium Seat ticket
· Photograph with Frank Caliendo
· Q&A session with Frank Caliendo
· Autographed VIP Laminate
"Be Frank" Merchandise Package Includes:
· Premium Seat Ticket
· Autographed "Be Frank" Merchandise
To purchase, please go to http://omgvip.com/frank-caliendo-vip-tickets/
For questions about the VIP packages, please email info@omgvip.com or call 877-606-9222.
Buy Tickets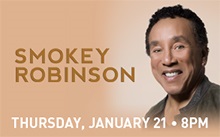 Once pronounced by Bob Dylan as America's "greatest living poet," acclaimed singer-songwriter Smokey Robinson's career spans over 4 decades of hits. He has received numerous awards including the Grammy Living Legend Award, NARAS Lifetime Achievement Award, Honorary Doctorate (Howard University), Kennedy Center Honors and the National Medal of Arts Award from the President of the United States. He has also been inducted into the Rock 'n' Roll Hall of Fame and the Songwriters' Hall of Fame.
Born and raised in Detroit, Michigan, Robinson founded The Miracles while still in high school. The group was Berry Gordy's first vocal group, and it was at Robinson's suggestion that Gordy started the Motown Record dynasty. Their single of Robinson's "Shop Around" became Motown's first #1 hit on the R&B singles chart. In the years following, Robinson continued to pen hits for the group including "You've Really Got a Hold on Me," "Ooo Baby Baby," "The Tracks of My Tears," "Going to a Go-Go," "More Love," "Tears of a Clown" (co-written with Stevie Wonder), and "I Second That Emotion."
In addition to writing hits for the Miracles, Robinson wrote and produced hits for other Motown greats including The Temptations, Mary Wells, Brenda Holloway, Marvin Gaye and others. "The Way You Do the Things You Do," "My Girl," "Get Ready," "You Beat Me to the Punch," "Don't Mess with Bill," "Ain't That Peculiar," and "My Guy" are just a few of his songwriting triumphs during those years.
He later turned to a solo career where he continued his tradition of hitmaking with "Just to See Her," "Quiet Storm," "Cruisin'," and "Being with You," among others.as
During the course of his 50-year career in music, Robinson has accumulated more than 4,000 songs to his credit and continues to thrill sold-out audiences around the world with his high tenor voice, impeccable timing, and profound sense of lyric. Never resting on his laurels, Smokey Robinson remains a beloved icon in our musical heritage.
MUST BE 21 TO ENTER
Buy Tickets
UPCOMING