MARCUS KING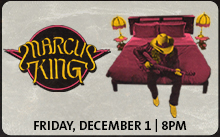 Marcus King takes over the Hard Rock Live stage on Dec. 1
Artist, performer, and songwriter, Marcus King, has always been destined for the stage. Growing up in Greenville, S.C., King began performing alongside his family at the age of eight. As the frontman for "The Marcus King Band," he gained recognition for his unparalleled performance prowess and dynamic live shows, logging countless miles on the road.
In 2020, King collaborated with Dan Auerbach of the Black Keys to release his solo debut album, "El Dorado," which garnered critical acclaim and earned him a Grammy Award nomination for "Best Americana Album." Praised by NPR, American songwriter, and Rolling Stone, "El Dorado" became a standout release of 2020. King's talent and captivating performances caught the attention of producer Rick Rubin, leading to his signing with American Recordings. In 2022, King, joined by Auerbach once again, unleashed his passion for rock 'n' roll and created the album "Young Blood," a powerful and energetic collection that embodies King's unwavering dedication to his craft. Released under American Recordings/ Republic Records, "Young Blood" is set to captivate audiences and move them with its raw musicality and catching energy.
For more information on Marcus King, visit www.marcuskingofficial.com


MUST BE 21 OR OVER TO ATTEND.
For more information call 918-384-ROCK
Will Call: 5pm | Doors Open: 7pm |Showtime: 8pm