ROCK THE DOCK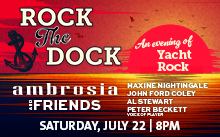 Ambrosia and friends "Rock the Dock" in Tulsa July 22
Today's so-called "yacht rock" music scene would not be the same without the contributions from the artists in "Rock the Dock." Ambrosia is now more alive and compelling than ever. The five-time Grammy-nominated ensemble achieved five Top 40 singles including "How Much I Feel" and "Biggest Part of Me." They continue to receive frequent radio airplay, gain the admiration and respect of the musical community and sell out concerts around the world.
Maxine Nightingale is best known for her debut multi-platinum single "Right Back Where We Started From," which was No. 1 in 24 countries around the world. In 1976, she was nominated for a Grammy for "Best New Artist of the Year" and her album "Lead Me On" was then certified multi-platinum in 20 countries.
John Ford Coley is most revered as half of the Grammy nominated duo England Dan and John Ford Coley. Churning out many memorable hits during this era, some of John Ford Coley's songs are: "Love Is The Answer", "Gone Too Far", "I'd Really Love To See You Tonight", "We'll Never Have To Say Goodbye Again", "Nights Are Forever Without You", and "Sad To Belong".
Peter Beckett, known as "The Voice of Player", is the original lead singer and songwriter of the band Player. Player was voted by Billboard Magazine's honor roll as Best New Single Artist for 1978 for their international #1 hit "Baby Come Back". As a follow up on the record charts, Beckett and Player also enjoyed great success with their hit "This Time I'm In It For Love".
For More Information Call: 918-384-ROCK
Will Call:5:00pm|Doors Open:7:00pm|Showtime:8:00pm