EVERCLEAR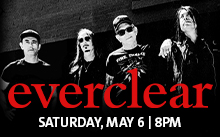 Everclear unites "Santa Monica" with Tulsa May 6


With smash hits like "Santa Monica," "Father of Mine," "I Will Buy You A New Life," "Wonderful" and more, Everclear has written and recorded some of the 90s' most recognizable melodies. Formed by Art Alexakis in 1991 in Portland, Oregon, Everclear has enjoyed a lengthy career spanning 11 studio releases, numerous videos, thousands of shows and accolades that include a 1998 Grammy nomination.

The band continues to tour extensively, and focuses on performing "deep cuts" from past material as well as the songs that satisfy the nostalgia of Gen Xers. Alexakis has performed through multiple lineup changes over the years. During the "classic" era, the band also included Craig Montoya on bass and Greg Eklund on drums; the current touring lineup features longtime members Davey French (guitar) and Freddy Herrera (bass), as well as drummer Brian Nolan (also with American Hi-Fi), who has performed with Everclear on multiple past tours.
For more information on the band, visit www.EverclearMusic.com


MUST BE 21 OR OVER TO ATTEND.
For More Information Call: 918-384-ROCK
Will Call: 5:00pm | Doors Open: 7:00pm | Showtime: 8:00pm