TRACY BYRD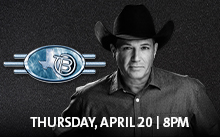 Tracy Byrd does the "Watermelon Crawl" to Hard Rock April 20


Tracy Byrd's career as a traditional country troubadour took off in 1993 when his single, "Holdin' Heaven," hit No. 1 on the Billboard Country charts. His self-titled debut album that year also included the remake hit of Johnny Paycheck's "Someone to Give My Love To," which helped the album to be certified Gold. His second album, "No Ordinary Man," kept building on the momentum with "Lifestyle's of the Not So Rich and Famous and "The First Step" making their way through the charts. But it was the release of his smash hit "Watermelon Crawl" that pushed sales over the half-million mark. Teamed with the No. 1 single "The Keeper of the Stars" and the album was designated Double Platinum in 1995. "The Keeper of the Stars" also won Byrd the Academy of County Music's "Song of the Year" award.

Byrd went on to add several more singles to his list of chart-toppers including "Walking to Jerusalem," "Heaven in My Woman's Eyes," "4 to 1 in Atlanta," "Don't Take Her She's All I Got," "I'm From the Country" and "I Wanna Feel That Way Again." Following his departure from MCA Records, he also added hits like "Put Your Hand in Mine," "The Truth About Men" and the iconic and comedic "The Drinkin' Bone," which became a crowd-favorite. The new millennium also say the release of his album "10 Rounds" which featured "A Good Way to Get on My Bad Side," "10 Rounds of Jose Cuervo" and "Just Let Me Be In Love."

Byrd, a well-known outdoorsman, was recruited for TNN Outdoors as the host of its Weekend Outdoor Broadcast in 1998. His Greatest Hits album, "Keepers: Greatest Hits" was released around the same time and earned Byrd another Gold album. His latest album, "All American Texan," was released in 2016.

For more information on Byrd and his career, visit www.TracyByrdMusic.com

MUST BE 21 OR OVER TO ATTEND.
For More Information Call: 918-384-ROCK
Will Call: 5:00pm Doors Open: 7:00pm Showtime: 8:00pm