ASLEEP AT THE WHEEL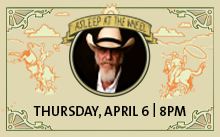 Asleep at the Wheel "Comin' Right at Ya" in Tulsa April 6

A mainstay in the American roots music landscape for more than 50 years, Asleep at the Wheel, featuring Brennen Leigh and Joshua Hedley is bringing the best in Western swing to Hard Rock Live inside Hard Rock Hotel & Casino Tulsa on Thursday, April 6, 2023 at 8 p.m.
Although the band got its start on a farm in Paw Paw, West Virginia, Asleep at the Wheel became a cornerstone of the Austin, Texas scene upon its arrival in 1973. Inspired by western swing and honky-tonk country, the band has accrued 10 Grammy Awards. Ray Benson carries the band back onto the road, where they've remained a staple for five decades.
Brennen Leigh is an American songwriter, guitar player, mandolin player and singer whose -to-the-point storytelling style has elevated her to cult icon status in Europe, across the United States and South America. Her new album, "Obsessed with the West" is a smart ode to Western swing featuring Asleep at the Wheel as backing band.
Joshua Hedley is a "singing professor of country and western" he declares on his album, "Neon Blue." His 2018 debut, "Mr. Jukebox," showcased his deep knowledge of country's history, in particular the ballads of the 1950s and 1960s.
For more information on the band, visit www.AsleepattheWheel.com


MUST BE 21 OR OVER TO ATTEND
For More Information Call: 918-384-ROCK
Will Call: 5:00pm Doors Open: 7:00pm Showtime: 8:00pm