RICK SPRINGFIELD/MEN AT WORK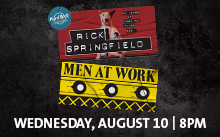 Over the past four decades, Rick Springfield has worn many hats as an entertainer and performer. The Grammy Award-winning singer, songwriter, and musician has sold 25 million albums and scored 17 U.S. Top 40 hits, including "Jessie's Girl," "Don't Talk to Strangers," "An Affair of the Heart," "I've Done Everything for You," "Love Somebody," and "Human Touch."



Springfield is also an accomplished actor who starred opposite Meryl Streep in the film "Ricki and the Flash" and starred as the creepy Dr. Irving Pitlor in HBO's "True Detective." He's also earned great reviews in the CW hit "Supernatural," and FX's "American Horror Story." He's also a talented author – both is 2010 memoir "Late, Late at Night" and his 2014 comedic novel "Magnificent Vibration" earned rave reviews and spots on the New York Times Best Sellers' List.



Australia-based Men At Work is known as a global success in the early 1980s. With smash hits like "Down Under," "Who Can It Be Now?," "Overkill" and "It's a Mistake," the band became synonymous with Grammy wins and multi-platinum sales. Following the band's breakup in 1985, founding members Colin Hay and Greg Ham continued to tour many parts of the world as Men At Work into the 2000's.



After Ham passed away in 2012, Hay developed a solo career and is presently part of Ringo Starr's All Starr Band. Since 2019, he has also toured and played under the Men At Work banner with his Los Angeles-based group of musicians, where he plays an exclusively Men At Work set, including all the hits and dearly loved songs that have stood the test of time.