RAIN - A TRIBUTE TO THE BEATLES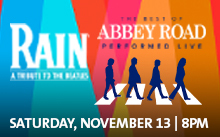 "Rain – A Tribute to the Beatles" is a mind-blowing performance that takes you back in time with the legendary foursome delivering a note-for-note theatrical event that is considered by critics to be the next best thing to seeing the Beatles in concert.
Musician and actor Steve Landes heads up the tribute band playing the role of John Lennon on vocals, rhythm guitar, piano and harmonica. A life-long, second-generation Beatles fan, Landes has performed alongside legendary sixties artists Peter Noone ("Herman's Hermits"), Joey Molland ("Badfinger"), Mitch Ryder and the Detroit Wheels and Tiny Tim. As an actor, he appeared in films "Wedding Bell Blues," "For Which He Stands" and Tim Burton's "Mars Attacks!"
Paul Curatolo's love for the Beatles has driven him to master vocals, bass, piano, guitar and the character of Paul McCartney down to every detail. With the Beatles as his biggest influence growing up, he recorded five albums and toured the U.S. with the pop band Wayward when he was 14.
On vocals and lead guitar as George Harrison, Alastar McNeil is the newest member to "Rain – A Tribute to the Beatles." Born and raised in Hawaii, he started his career as an ukulele luthier and eventually fulfilled the dream of being a full time musician. McNeil and his wife Miwa have played with the iconic band Kupaina for years, earning a solid reputation among other Honolulu bands.
Aaron Chiazza takes over on drums, percussion and vocals as Ringo Starr. Chiazza began playing music at the young age of five when his parents gifted him a drumset. From there, he went on to study music academically. Amongst original projects, writing and shows, Chiazza also loves being an audio engineer and artist.
MUST BE 21 TO ENTER