FITZ AND THE TANTRUMS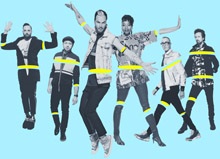 There came a point, in the time following the release of "HandClap" — the biggest song of Fitz and the Tantrums' career — when its ascent crossed the threshold of successful, zoomed past game-changer, to just plain, WTF?! The double-platinum, Top 5 smash - which racked up 1.5 billion streams in China alone - was synched on countless shows from American Idol to The Oscars. Fitz and the Tantrums were invited to perform for the masses on primetime television and such cultural institutions as Dick Clark's New Year's Rockin' Eve, the Macy's Thanksgiving Day Parade, and FOX's Super Bowl preshow after "HandClap" become something of an unofficial theme song for the NFL. "I remember watching a football game and the Dallas Cowboys' cheerleaders were doing a routine to it," says the band's co-vocalist and songwriter Michael "Fitz" Fitzpatrick with amusement.
Such mainstream looks felt a bit surreal for Fitz and the Tantrums, which also includes co-vocalist/co-writer Noelle Scaggs, saxophonist James King, keyboardist Jeremy Ruzumna, bassist Joseph Karnes, and drummer John Wicks. The Los Angeles-based band had been known for its platinum-selling, No. 1 Alternative radio hits "The Walker" and "Out Of My League" and were accustomed to performing roof-raising live shows, but not for pre-pubescents at the Radio Disney Music Awards. The song was literally everywhere. "I knew as soon as we wrote 'HandClap' that it was the one, but it made the intensity of having to deliver another album even greater," says Fitz, who wrote 80 songs for the band's upcoming new album, All The Feels.
In many ways All The Feels — whose vibrant sonic palette draws from the band members' diverse rock, alternative, dance, and hip-hop influences and leans in on their gutsier impulses — mirrors the duality of the human experience. The songs' verses may be dark, but the choruses are about shining a light into those dark spaces. "How do you talk about these things in a way that still makes you want to dance?" Fitz says. By answering that question, the album affirms Fitz and the Tantrums' longtime mission to uplift people and bring them together, especially through their live performances. "Our show is such a big part of who we are and has always been a joyful dance party," Fitz says. "We get to work through stuff together through dance and sweat. There is solace in knowing that you're not alone."
MUST BE 21 TO ENTER