MIDNIGHT JOKER COMEDY CLUB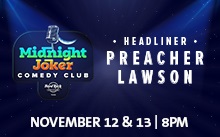 Hard Rock Hotel & Casino Tulsa is putting a spotlight on local and national comedy with its new Midnight Joker Comedy Club, held monthly in the Multi-Purpose Room near Track 5.

Midnight Joker will feature an up-close-and-personal comedy show experience inside the 7,000-square-foot Multi-Purpose Room that was built in 2018 as part of Hard Rock Hotel & Casino's latest expansion. Each month, the stage will be home to national comedic acts that will have an opening lineup of regional and local artists.
"Comedy shows are among the most popular performances that we've had on our stage at The Joint," said Martin Madewell, Senior Director of Marketing. "Midnight Joker allows us to not only bring in even more headlining comedy, but to also showcase local up-and-comers that are already creating large followings here in Oklahoma."

Preacher Lawson started work as a comedian in Orlando, Florida, and considers it to be his hometown. He started writing jokes when he was 16 for about a year, then performed for the first time at age 17.

Preacher won the 2015 Funniest Comedian In Florida and the 2016 Seattle International Comedy Competition. In 2017 he appeared on season 12 of America's Got Talent and made it through successive elimination rounds, reaching the finals, where he was one of the final 10. He also appeared in that year's America's Got Talent Live! show in Las Vegas that was part of the winner's prize. Lawson also runs a YouTube channel, where he posts travel vlogs, cooking guides, and music videos, all with a comedic twist. As of the 28th of September 2019, his channel has over 9,000,000 views and over 320,000 subscribers.
MUST BE 21 TO ENTER