MIDNIGHT JOKER COMEDY CLUB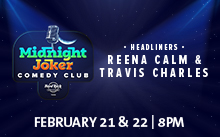 Hard Rock Hotel & Casino Tulsa is putting a spotlight on local and national comedy with its Midnight Joker Comedy Club, held monthly in the Multi-Purpose Room near Track 5.
Midnight Joker will feature an up-close-and-personal comedy show experience inside the 7,000-square-foot Multi-Purpose Room that was built in 2018 as part of Hard Rock Hotel & Casino's latest expansion. Each month, the stage will be home to national comedic acts that will have an opening lineup of regional and local artists.
Reena Calm is an East Coast Jew turned Chicago favorite, one of the most respected and requested comedians in the Midwest, and is now a nationally touring headliner. Pulling from a lifetime of questionable choices, Reena's material is autobiographical, silly, and charmingly inappropriate. This pun-slinger travels the country on her signature #Calmedy tours, living out of a tricked out Prius on a mission to make people laugh in all 50 States, just a few left to go! She has been a frequent guest on WGN Radio, was on the Doug Loves Movies podcast, and was named Comic of The Week on The Jackie & Laurie Show. Reena's been called "everything comedy should be" by a guy in Wisconsin, "also terrific" by the Chicago Tribune, and "not a disappointment" by her mother. Check out her book "Once A Pun A Time…Legend of a Sighs Queen" on Amazon.
Travis Charles is a veteran comic out of Richmond, VA. His humor tends to come directly from his life experiences, for better or worse. His brutal honesty about his life and the world in general is somehow both abrasive and endearing. As the hilarious creator of The Most Offensive Show on Earth at Wiley's Comedy Club, he's not at all afraid to push some of the boundaries of good taste in a way that stays somehow remarkably palatable.
Travis has been seen on the Travel Channel, Comcast OnDemand, and FOX. His content on YouTube has received well over 2 million views.
MUST BE 21 TO ENTER