TRAVIS TRITT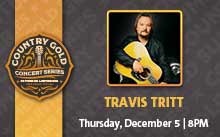 Travis Tritt first stepped on the country scene with his 1990 platinum debut "Country Club" that catapulted him into the genre's early '90s boom, dubbing him as one of "The Class of '89," which included country music superstars Garth Brooks, Clint Black and Alan Jackson. With the album, Tritt scored the Top New Male Artist award from Billboard and the CMA Horizon Award. His second album, "It's All About to Change," included songs like "Anymore," "Here's a Quarter" and "The Whiskey Ain't Workin," sold three million copies and was certified triple-platinum by the RIAA.
The next series of albums, seven of which are certified platinum or higher, scored him more hit singles like "It's a Great Day To Be Alive," "Best of Intentions" and "Foolish Pride" and more than 30 million in album sales. He earned two more Grammys, three CMA Awards and was invited to join the Grand Ole Opry in 1992.
He's been a force in sports appearances, having performed at the 1996 Olympics, two Super Bowls, a World Series Game, the opening of the Georgia Dome, the final Braves game at Atlanta-Fulton Country Stadium and, in 2013, the NCAA men's basketball championship.
In 2012, Tritt formed his own label, Post Oak Recordings and shortly after released his album, "The Calm After…" Most recently, he appeared on USA Network's "Real Country" alongside Shania Twain and Jake Owen.
MUST BE 21 TO ENTER