MARK CHESTNUTT & LORRIE MORGAN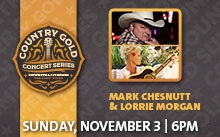 Mark Chesnutt is one of Country's true musical treasures. Critics have hailed him as a classic Country singer of the first order and some of Country music's most elite entertainers from George Jones to George Strait echo this sentiment. Mark Chesnutt's stature is easily gauged; he has 14 No. 1 hits, 23 top ten singles, four platinum albums and five gold records. Country music critics and fans alike need look no further when it comes to Country music basics. If you ask Mark Chesnutt he will tell you, It's the music that has kept me around this long. In a world that sometimes confuses style with substance, Mark Chesnutt possesses both. One of the most eloquently emotive country vocalists of modern times is launching her first new solo album in five years. Lorrie Morgan, the first woman in her genre to begin her career with three consecutive Platinum albums, re-emerges on Shanachie Entertainment with Letting Go….Slow. It is a collection that showcases a rainbow of emotions, from darkest heartache to bright, shiny humor.
Lorrie Morgan has been around great songs all her life. She is a Nashville native who is the daughter of Country Music Hall of Fame member George Morgan. She made her debut on the Grand Ole Opry stage at age 13, singing "Paper Roses." Her father died suddenly of a heart attack at age 51. She was l6 at the time and just beginning her musical career. Lorrie Morgan began making records shortly thereafter. She was honored with induction into the Opry cast when she was just 24. Morgan married fellow country singer Keith Whitley in 1986. She was signed to RCA Records in 1987, and her onslaught of hits began the following year. Whitley's tragic death of an alcohol overdose in 1989 left her a widowed working mother. Their duet "Til a Tear Becomes a Rose" earned her a 1990 CMA award.
MUST BE 21 TO ENTER