GOOD CHARLOTTE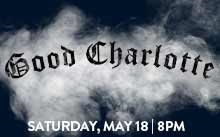 Made up of brothers Joel and Benji Madden, Billy Martin, Paul Thomas and Dean Butterworth, Good Charlotte has amplified the voice of a generation over the past twenty years. In 2000, the band's landmark self-titled debut quietly set the stage for their success. It was their 2002 classic "The Young and the Hopeless" with smash hits like "Lifestyles of the Rich and Famous," "The Anthem," and "Girls & Boys" that went RIAA triple-platinum and was lauded in the Top 20 of Rolling Stone's "50 Greatest Pop-Punk Albums."
Good Charlotte followed their second album's groundbreaking success with "The Chronicles of Life and Death" that bowed at No. 3 on the Billboard Top 200 and reached platinum status with songs like "Predictable" and "I Just Wanna Live." Albums "Good Morning Revival" and "Cardiology" repeated Top 10 success and brought the band around the world multiple times.
Following a six-year hiatus, they made a much-anticipated return with their first independent album "Youth Authority" in 2016. By 2018, cumulative sales exceeded 11 million worldwide, while accolades encompassed everything from KERRANG! Awards to an MTV VMA. Along the way, they formed a full-service management firm and music company, MDDN, which looks after 21 clients and comprises a team of 16 creative professionals.
In 2018, they released "Generation Rx," with songs like "Actual Pain," "Shadowboxer," and "Prayers." The band took the album on the road and is currently touring around the world in front of countless screaming fans.
MUST BE 21 TO ENTER