STEVE EARLE & THE DUKES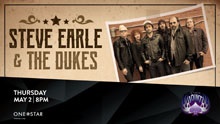 An old school troubadour with a rabble-rousing streak a mile wide, Steve Earle has been on the forefront of roots music for more than 30 years, a natural successor to vital American songwriters like Woody Guthrie and Townes Van Zandt. He'll be giving a rare solo acoustic show.
Ever since he sprung onto the country rock scene in the mid 80's with his breakthrough hit album Guitar Town, Earle has set the standard for topical roots rock and helped define what would become Americana music.
Always musically restless, Earle never stayed with a particular sound throughout his prolific, topsy-turvy career. Whether it be snarling country rock, strident protest folk or detours into bluegrass, Celtic music and blues, the one constant has been Earle's powerful and finely crafted songwriting. His songs have been covered by the likes of Johnny Cash, Waylon Jennings, Shawn Colvin and Emmylou Harris among many others.
Earle's own recording output is prodigious, releasing 17 studio records and 6 live albums over the last three decades. Many of his songs have become standards of the Americana canon, including "Copperhead Road," "Goodbye," 'Pilgrim," "Galway Girl" and countless others (including some highly publicized protest songs like "John Walker's Blues"). His most recent record, 2017's So You Wanna Be an Outlaw was recorded with his band The Dukes and was a tribute to the Texas "outlaw country" singer songwriters of the 70's and 80's.
Never one to remain artistically satisfied, Earle has also tries his hand acting, playing acclaimed roles in the HBO dramas The Wire and Treme. He's also proven to be a successful author, writing a novel, a play and a collection of short stories.
MUST BE 21 TO ENTER