ROBERT CRAY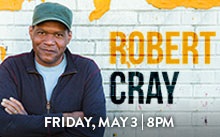 Robert Cray has created a sound that rises from American roots that still resonates with audiences today. In just over 40 years, Cray and his band have recorded 20 studio releases -- 15 of which have been on the Billboard charts. He's the winner of five Grammy Awards and has played in numerous bars, concert halls, festivals and arenas around the world.
As early as his teenage years, Cray was captivated by southern soul and the blues. He drew inspiration from O.V. Wright, Buddy Guy, Otis Rush, Albert King and especially Albert Collins. In 1974, his career kickstarted as the Robert Cray Band came together in Eugene, Oregon. With the group's 1980 debut release, "Who's Been Talkin', word about the Cray Band began to spread across the Northwest and down in to California. They soon caught the attention of John Lee Hooker, who later jumped on stage and started playing with the band during a tour stop in Montana.
With more album releases like "Bad Influence" and "False Accusations," the Cray Band's beginnings continued to bring the sounds of its mentors into the mainstream, even taking the music of John Lee Hooker, Etta James and Albert Collins to a larger, younger audience. After hitting the radio waves with a series of hits like "Smoking Gun," "I Guess I Showed Her" and "Right Next Door (Because of Me)," Cray became a sensation and became the first African-American artist since Jimi Hendrix to rise to such fame in rock music.
During the 90s, The Cray Band was featured in concert with artists like Clapton, The Stones, BB King and Bonnie Raitt. In 2011, Cray was inducted to the Blues Hall of Fame and received the Americana Lifetime Achievement Award for Performance in 2017.
MUST BE 21 TO ENTER