TRACE ADKINS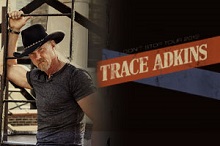 Adkins' success spans over two decades and has made him a household name in country music. With 11 million albums sold, a slew of hit singles and multiple TV and movie roles, Adkins' influence can be felt throughout the music industry and he shows no signs of stopping.
Adkins has won three Academy of Country Music Awards, including the 2009 Single of the Year Award for "You're Gonna Miss This" and Vocal Event of the Year with Blake Shelton for "Hillbilly Bone" in 2010. He spend much of 2018 in a Nashville studio writing and recording his 12th studio album, "Something's Going On," his first release on his new label, BBR Music Group/Wheelhouse Records.
The country star is also an accomplished actor with roles in several films and television shows, most notably playing a tough-as-nails biker in "The Lincoln Lawyer," a desperate father in "Deepwater Horizon," and a wise oracle of a tattoo artist in the family friendly film "Moms' Night Out."
In his 2007 autobiography, "A Personal Stand: Observations and Opinions from a Freethinking Roughneck," Adkins recounts his rise to fame, brushes with death and battles with personal demons. Now on tour behind his latest album, he serves as an inspiration to a younger generation of country artists, much in the way he revered icons like Johnny Cash and Merle Haggard when first moving to Nashville.
Adkins is most proud of his work supporting U.S. troops and veterans, serving as a spokesman for the Wounded Warrior Project and participating in an astounding 12 USO tours to date.
MUST BE 21 TO ENTER