BRUCE BRUCE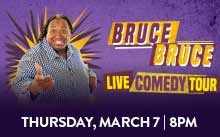 Bruce Bruce is a name synonymous with keeping audiences rolling with laughter thanks to his captivating improv skills and larger than life comedic style. Although Bruce is known for his adult comedy, he prides himself on not using vulgarity to win a laugh, and is no stranger to winning over audiences with every appearance he makes.
Bruce's comedy can be traced back to when he was working as a chef directly out of high school. He also worked as a Frito-Lays salesman and did everything from shelf placement to performing his comedy sets during their corporate meetings. Eventually, Bruce brought his comedy routine to the Comedy Act Theater in Atlanta and was an instant hit. When "BET's Coast to Coast" came to town searching for new and talented stand-up comedians, Bruce would pursue the opportunity to appear on the show and would audition at each club in the area. He appeared on the show three times before making his first appearance on HBO's "Def Comedy Jam" in 1993, followed by "Showtime at the Apollo" hosted by Steve Harvey in 1994.
The comedian went on to host BET's "10th Anniversary Comic View" for two seasons, as well as "Coming to the Stage." Bruce went on from there to star in his own "Comedy Central Presents" special which he followed with the release of his one-hour comedy special DVD "Bruce Bruce Live." He's also no stranger to the big screen with roles in "Hair Show," "The Wash," "Larry the Cable Guy: Health Inspector," "Who's Your Caddy," and "XXX: State of the Union."
Bruce has also stepped onto the music video scene with guest appearances in videos with Ludacris and the Ying Yang Twins (after being named in their hit song "Salt Shaker"). He also appeared in Quad City DJs' "Come On Ride the Train (Ride It)," and Outkast's "So Fresh, So Clean." His festival appearances include the prestigious Just For Laughs Comedy Festival, Laffapalooza and the U.S. Comedy Arts Festival.
You can currently find Bruce on TBS' "Comedy You Can Believe In" hosted by David Alan Grier and in reruns of "Comedy Central Presents" and BET's "Comic View."
MUST BE 21 TO ENTER