CARROT TOP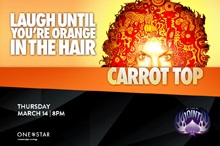 Carrot Top has been making audiences around the world laugh for more than three decades. Since his debut on "Star Search" 25 years ago, the comedian has become one of the most recognizable entertainers in the world.
Thompson got his start as a student at Florida Atlantic University in Boca Raton, Florida during his freshman year, when he went to a club and saw live standup comedy for the first time. His roommate convinced him to sign up at an open mic night a few months later and after a handful of nerve-wracking first performances, he had caught the comedy bug.
Since 2005, fans have flocked to Carrot Top's Las Vegas headlining residency at Luxor Hotel and Casino to catch his current take on pop culture, music and headlines of the day in a continually evolving show. With a dozen trucks filled with approximately 200 props on stage each night, audience members can count on not seeing the same show twice.
MUST BE 21 TO ENTER