THE COMMODORES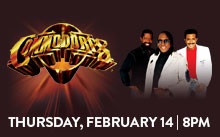 Considered a longtime force in Motown and the music industry, the Commodores' Walter "Clyde" Orange, James Dean "JD" Nicholas and William "WAK" King have influenced artists young and old and in all genres with their classic songs.
The group has gone on to sell more than 75 million records for Motown and became the largest-selling act for two decades. They have a string of hits including "Machine Gun," "Brick House," "Easy," "Three Times A Lady," "Just To Be Close To You," "Slippery When Wet," "Sail On," "Sweet Love," "Oh No," "Goin' To The Bank," "Still," "Lady (You Bring Me Up)," "Slippery When Wet," "Fancy Dancer," "To Hot Ta Trot" and many others that moved an entire generation. They also have five No. 1 albums, 20 Top 10 singles and are Vocal Group Hall of Fame inductees. The Commodores achieved Grammy recognition in 1985 for Best Vocal R&B Performance by a Duo/Group for their song, "Nightshift."
In August of 1992, Commodores Records and Entertainment came into being and was the final step in maintaining full, total control over their music, and career that the band had desired for some time. Signing a series of domestic and international publishing, licensing and distribution agreements through the new company, the Commodores released "Commodores Hits Vol. I," "Commodores Hits Vol. II," "Commodores Christmas," and "Commodores XX – No Tricks."
Today, the Commodores of the present have not only produced six albums, but continue to tour worldwide.
MUST BE 21 TO ENTER