DAVID SPADE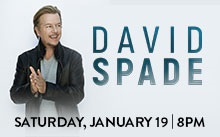 After getting his start as a stand-up comedian in theaters, clubs and colleges throughout the country, Spade earned a spot on "Saturday Night Live," reaching households across America. Soon after his SNL start, he was named "Hot Stand-Up Comedian of the Year" by Rolling Stone magazine.
His stint on SNL made him a household favorite, and the funnyman continued with a notable role as Dennis Finch, the wise-cracking, power-hungry assistant on "Just Shoot Me." This role earned Spade an Emmy and a nomination for a Golden Globe and an American Comedy Award.
He has numerous film credits, including a starring role in "Joe Dirt" (2001) and its sequel, "Joe Dirt: Beautiful Loser" (2015). Spade also joined the cast of Sony Pictures' "Grown Ups 2," starring alongside Adam Sandler, Chris Rock and Kevin James. It was a follow-up to the 2010 comedy where childhood friends reunite. Both films experienced huge success, topping more than $200 million at the box office worldwide.
Spade has starred in "The Benchwarmers," "Dickie Roberts: Former Child Star," "Black Sheep," "Reality Bites," "Tommy Boy," "Light Sleeper," "Coneheads," "Lost & Found" and many others.
Fans can see Spade on his latest national stand-up tour, "Netflix Presents: Sandy Wexler's Here Comes the Funny." Spade recently starred in Netflix's biggest film release, "The Do-Over," opposite Sandler and Paula Patton, and was a guest star on the Showtime production "Roadies."
Spade's most recent role is in the September release of "Warning Shot." He stars alongside actors Bruce Dern, James Earl Jones, Tammy Blanchard and Guillermo Diaz in the thriller directed by Dustin Fairbanks and written by Breanne Mattson.
MUST BE 21 TO ENTER