JON PARDI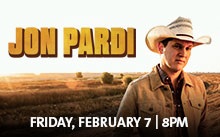 Pardi broke out onto the Nashville scene by finding his way into the songwriting community and learning from songwriters like Brice Long who co-wrote Randy Houser's ballad "Anything Goes" and Gary Allan's No. 1 single "Nothing On But The Radio." Pardi also became particularly close with Bart Butler, who emerged as Pardi's co-producer.
He soon developed his unique style and introduced it to the world in his 2014 debut "Write You a Song," that made him familiar to the suddenly-hip country crowd, thanks to his Top 10 party song "Up All Night." Pardi grew a raucous following, increasingly selling out 1,000-2,000 ticket clubs, sometimes out-performing higher-profile country acts playing across town the same night.
His second album, "California Sunrise," features Pardi's vocal performances with hits like "Head Over Boots," "Out of Style," "She Ain't In It" and "Heartache on the Dance Floor," among others. "Head Over Boots" became Pardi's fastest-rising single to date, thanks to its buoyant melody and incessant optimism.
Ushered into the world on the same label that launched Buck Owens and Merle Haggard, Pardi has found a whole chain of believers in his mission: the dedicated band behind him, his fans and his label that knows Pardi's "throwback" sound is made to last.
MUST BE 21 TO ENTER