ANJELAH JOHNSON-REYES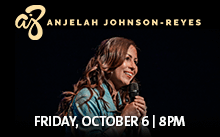 Anjelah Johnson-Reyes is one of the most successful stand-up comedians today with six comedy specials streaming on various platforms and selling out theaters across the world and now she's on her way to Hard Rock Live inside Hard Rock Hotel & Casino Tulsa on Friday, Oct. 6 at 8 p.m.
It has come full circle for comedian, actress and author Anjelah Johnson-Reyes whose comedy career was ignited after her 'Nail Salon' stand up bit went viral on YouTube over a decade ago.
Born and raised in San Jose, California, and of Mexican and Native American descent, Anjelah has guest starred on shows such as "Superstore," "The Shield," "Ugly Betty," and "Curb Your Enthusiasm." Her film roles include "Enough Said," "Our Family Wedding," and "Alvin And The Chipmunks: The Squeakquel." In 2023, Anjelah hosted the Pollstar awards in Los Angeles which celebrates the top touring acts in music and comedy, and she was a presenter at the prestigious Producers Guild Awards. Upcoming in the future, Anjelah Johnson-Reyes will co-star opposite Eddie Murphy in the Amazon Prime holiday film, "Candy Cane Lane," and in Amy Schumer's second season of "Life & Beth" on Hulu. Her book, "Who Do I Think I Am: Stories of Chola Wishes & Caviar Dreams," recently came out in paperback.
Anjelah's anecdotes of growing up caught between her Mexican heritage and American culture, her rise to success in Hollywood which all started when she was a Raiderette cheerleader, and so much more resonated with readers. Those same relatable stories connect her in a meaningful way to her fans and has driven her social media engagement through the roof. Much of her comedy is centered around her move from California to Nashville, Tennessee and is interwoven with stories about the most important people in her life- her husband, family, and friends.
For more information on Johnson-Reyes, visit www.anjelah.com

MUST BE 21 OR OVER TO ATTEND.
For More Information Call: 918-384-ROCK
Will Call:5:00pm | Doors Open:7:00pm | Showtime:8:00pm