CHICKS WITH HITS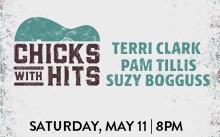 The trio will showcase dozens of songs as they share the stage, bringing together decades of hits.
Terri Clark is an 8-time Canadian Country Music Association's Entertainer of the Year and has earned CCMA Female Vocalist of the Year five times. She is the only Canadian female artist to be a member of the Grand Ole Opry.
Clark has sold more than five million albums and is known for dozens of singles, including "Better Things To Do," "Poor Poor Pitiful Me," "Girls Lie Too" and "I Just Wanna Be Mad."
Pam Tillis has more than seven million sold copies of albums and 30 charting singles including songs like "Maybe It Was Memphis," "Shake the Sugar Tree" and "Spilled Perfume." She's won numerous awards including two Country Music Association awards, two Grammys and an International Bluegrass Music Association Award.
She's a reoccurring guest on the TV show, Nashville, performed an extended run in Broadway's "Smokey Joe's" and is a proud member of The Grand Ole Opry.
Suzy Bogguss is known for hits like "Outbound Plane," "Someday Soon," "Letting Go," and "Drive South." She has sold more than four million records.
Bogguss is also a Grammy winner for her work on Beautiful Dreamer: The Songs of Stephen Foster. She's also showcased her folk music roots by appearing on public radio's A Prairie Home Companion and in her 2011 album and book project, American Folk Songbook.
MUST BE 21 TO ENTER