COLE SWINDELL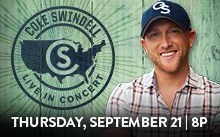 Swindell's stop at The Joint comes after his 2017 tour with Dierks Bentley and a successful sold-out headlining tour in 2016.
During the past two years, Swindell has taken country music by storm with career-defining singles like "Let Me See Ya Girl," "Hope You Get Lonely Tonight," "Ain't Worth The Whiskey," and "Chillin It" to name a few. One of his latest, "You Should Be Here" has more than 100 million streams and is platinum-certified.
Writing three #1 hits in one year earned Swindell his second CMA Triple Play Award earlier this year. In 2016, he was named NSAI Songwriter/Artist of the Year and nominated as a CMA New Artist of the Year. Swindell was the only artist to earn the CMA Triple Play Award in 2015 and during the same year was named ACM New Artist of the Year and Billboard's Top New Country Artists.
The Georgia native was named Music Row's 2015 Breakthrough Songwriter of the Year, his songwriting credits include #1 hits like "This Is How We Roll" by Florida Georgia Line, and "Get Me Some of That" by Thomas Rhett. He's also written several songs with Luke Bryan, including his #1 single, "Roller Coaster."
MUST BE 21 TO ENTER