AARON LEWIS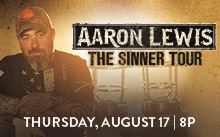 Rocker turned country star Aaron Lewis is touring the country in support of his chart-topping album, "Sinner." Lewis released "Sinner" in Sept. 2016. The album debuted at No. 4 on the Billboard 200 and No. 1 on the country charts.
The album features the hit single, "That Ain't Country" and also includes the Chris Stapleton-penned track "Whiskey and You," and a cover of "Travelin' Soldier."
"Sinner" is Lewis' third country album. In 2011, the rocker switched gears and released his country debut, "Town Line." He followed it up with 2012's "The Road."
Lewis is a founding member and frontman of the rock band Staind. The band has released seven albums to date that have featured numerous hit songs, including "It's Been Awhile," "For You" and "How About You." He continues to mix in numerous hit songs from the band in his live performances.
MUST BE 21 TO ENTER