AIR SUPPLY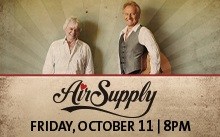 Graham Russell and Russell Hitchcock met during a Sydney, Australia, production of "Jesus Christ Superstar" in 1975, and the rest is history. After the shows' performances, the pair would play pizza parlors, coffee bars and nightclubs with just one guitar and two voices. Air Supply was soon formed and the duo quickly gained a reputation for great harmonies and original songs.
In 1979, the band released the single "Lost in Love," which led to a record deal with Arista Records and made Air Supply a household name in the U.S. Since then, Russell and Hitchcock have released 18 studio albums, two live albums and 12 compilations that have sold more than 20 million albums worldwide. Their most recent studio release is 2010's "Mumbo Jumbo," and in 2014, "Air Supply – Live in Hong Kong" was released.
They have released 27 singles, including the hits "All Out of Love," "Every Woman in the World," "Here I Am," "Sweet Dreams" and "Even the Nights Are Better." In 2015, they released the single "I Adore You."
Air Supply continues to tour globally in 2019. They also stay committed to their work as Goodwill Ambassadors with the Issa Trust Foundation, an organization focused on pediatric health care and education for children and families in Jamaica.
MUST BE 21 TO ENTER

For VIP Packages click the link below.
AIR SUPPLY VIP PACKAGES