AMERICA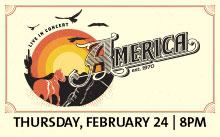 America continues to showcase its timeless sound around the world. With signature songs like "A Horse With No Name," "Ventura Highway," "Sister Golden Hair," "You Can Do Magic," "Tin Man" and "Lonely People," the band earned a global household name and became cornerstones of 1970's Top 40 and FM rock radio.
Founding members Gerry Beckley and Dewey Bunnell (along with former band mate, the late Dan Peek) amassed six certified gold and/or platinum, with their first greatest hits collection, "History," hitting more than $4 million in sales. The trio won a Grammy Award for Best New Artist in 1972.
In 2020, the band released their ultimate eight-disc anniversary box set, "Half Century," and streamed their concert special "America – Live at the London Palladium" for the very first time. 2020 also saw the release of the book "America, the Band: An Authorized Biography" by journalist Jude Warne. She weaves original interviews with Beckley, Bunnell and many others into a dynamic cultural history of America, the band and America, the nation. Billy Bob Thornton wrote the foreward.
MUST BE 21 TO ENTER