JAMEY JOHNSON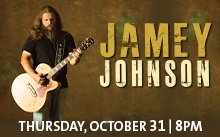 Truth and tradition. These non-negotiable principles serve as the bedrock of the music of 11-time Grammy-nominated singer-songwriter Jamey Johnson, who is "one of the greatest country singers of our time," according to The Washington Post. Indeed, the Alabama native has been acknowledged by many as country music's north star, guiding us down a path of confession and conflict to a place of reflection and redemption.
He is one of only a few people in the history of country music to win two Song of the Year Awards – for "Give It Away" and "In Color"-- from the Academy of Country Music and the Country Music Association.
He has received tremendous praise from The New York Times, Rolling Stone, The Wall Street Journal and other publications, many of which have hailed his albums as masterpieces. He was among the artists asked to set Johnny Cash's poetry to music in the new album Johnny Cash Forever Words: The Music.
His influential album, That Lonesome Song, was certified platinum for 1 million in sales, and his innovative double album, The Guitar Song, debuted at No. 1 on the country album charts and was certified gold. In 2012, he released a Grammy-nominated project honoring one of his heroes, Living for a Song: A Tribute to Hank Cochran.
In addition to his own recordings, he has written songs for George Strait, Willie Nelson, Trace Adkins, James Otto, Joe Nichols and others.
MUST BE 21 TO ENTER