GEORGE LOPEZ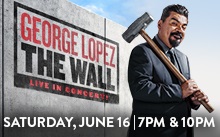 "Time" Magazine named him one of the 25 Most Influential Hispanics in America, and the Harris Poll named him one of the Top Ten Favorite Television Personalities.
Lopez remains a hit with television viewers with his comedy series, "Lopez" on TV Land. Starring and produced by Lopez, the series explores how he struggles between his two worlds and crises that are often of his own making. He's also known for "Lopez Tonight," a late-night television talk show on TBS, which represented Lopez's return to series television after co-creating, writing, producing and starring his sitcom, "George Lopez," which ran for six seasons on ABC. "George Lopez" remains among the top five comedies and top 20 weekly programs in syndication.
He was last seen in the Lionsgate inspirational drama, "Spare Parts." In 2014, Lopez starred in the multi-camera ensemble comedy "Saint George" on FX, which he co-created. Other film credits include box office hits like "Valentine's Day" directed by Garry Marshall, "Swing Vote," "Henry Pool is Here," and "Balls of Fury." He has also voiced a string of animated characters in blockbuster films including Rafael in "Rio" and "Rio 2," Thurman in "Escape from Planet Earth," Grouchy Smurf in "The Smurfs" 1 and 2, and "The Beverly Hills Chihuahua" 1, 2, and 3.
Lopez is coming off his latest HBO Comedy Special, "The Wall," which debuted in August 2017. His past HBO Special successes include "America's Mexican" in 2007, and "Tall, Dark and Chicano" in 2009 which was nominated for a Grammy in the category of Best Comedy Album.
His autobiography "Why You Crying?," released in May 2004, entered the "The New York Times" Bestsellers List Top 20. He followed it up with "I'm Not Gonna Lie and Other Lies You Tell When You turn 50."
MUST BE 21 TO ENTER