GLADYS KNIGHT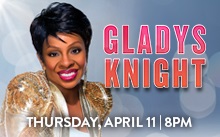 The "Empress of Soul" has recorded more than 38 albums, including her four solo albums released during the past decade. Throughout her career she has landed numerous No. 1 hits in pop, gospel, R&B and adult contemporary genres.
Her most recent release, "Where My Heart Belongs," an inspirational gospel album, earned her the NAACP Image Award for Outstanding Gospel Albums. The legendary songstress is no stranger to accolades, after getting her start at age 16 as Gladys Knight and The Pips, which achieved icon status and had some of the most memorable hits of the '60s, '70s and '80s.
Her recognizable chart-toppers include "Midnight Train to Georgia," "Best Thing That Ever Happened to Me," "So Sad the Song" and "Missing You."
Earning the first of seven Grammy's in 1973 with "Midnight Train of Georgia" and "Neither One of Us," she is no stranger to the spotlight.
Her career in television and film include a Lifetime original movie called "Seasons of Love," FOX TV's "Empire," "Apollo Live," "Dancing with the Stars" and "HOLIDAZE," along with a recent appearance on the Thanksgiving episode of CBS's crime drama "Hawaii Five-0."
The talented artist earned her star on the Hollywood Walk of Fame in 1995. The following year, Gladys Knight & The Pips were inducted into the Rock & Roll Hall of Fame. In 1997 and 1998, she and The Pips were presented with the Lifetime Achievement Award from the Rhythm & Blues Hall of Fame. In 2004, Knight received the Lifetime Achievement Award at the annual BET Awards ceremony.
MUST BE 21 TO ENTER