COLLECTIVE SOUL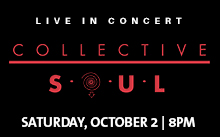 Coming hot off a triumphant, yearlong celebration of their 25th anniversary in 2019, the very last thing Collective Soul plan on doing in 2020 is rest on their laurels. If anything, these five fiery Georgia-bred rockers are only just getting started with the next phase of a thriving career that has seen them move millions of records and wow multitudes of fans all across the globe. Thanks to the warm reception of their acclaimed 2019 album release "Blood," Collective Soul are quite galvanized to add as much fresh material into their live sets as they can.

Collective Soul absolutely have a right to be proud of their new music, given that a number of key "Blood" tracks all fit seamlessly into their always dynamic live sets. Indeed, the hard charging positivity of "Right as Rain," the deeply introspective "Observation of Thoughts," the full-throttle insistence of "Over Me," and the good vibes of "Porch Swing" all stand tall live alongside such indelibly durable hits like "Shine," "December," "The World I Know," "Gel," "AYTA," and "Heavy."
Such effortless set list integration really shouldn't come as much of a surprise, considering how smoothly Collective Soul leapt into the national consciousness with the unbridled achievements of their multi-platinum 1993 debut "Hints Allegations and Things Left Unsaid," a career-making debut album that contains such mega-smash hits like the aforementioned "Shine" and "Breathe." In one fell swoop, the album cemented Collective Soul's status as the jukebox heroes of a new generation.
MUST BE 21 TO ENTER