3 DOORS DOWN - BACK PORCH JAM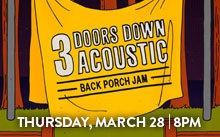 3 Doors Down Acoustic, made up of Brad Arnold on vocals, Chris Henderson and Chet Roberts on guitar, Greg Upchurch on drums and Justin Biltonen on bass.

The band first found their own voice in 1995. Everything kicked off with their 2000 debut, "The Better Life." The album went platinum six times and introduced the world to their classic, "Kryptonite." Their fan base continued to grow with 2002's triple platinum album, "Away from the Sun," which yielded the smashes "When I'm Gone" and "Here Without You." Both of 2005's became platinum-certified "Seventeen Days" and 2008's "3 Doors Down" bowed at No. 1 on the Billboard Top 200 followed by the No. 3 "Time of My Life" debut in 2011. In 2016, they released their sixth studio album, "Us and The Night," which debuted in the Top 10.

In between countless sold out shows, the guys notched three Grammy Award nods, scored two American Music Awards and a received a total of five BMI Pop Awards, including an award for Brad Arnold for BMI "Songwriter of the Year."

In 2003, the group began a tradition of giving back with the launch of The Better Life Foundation, designed to give as many children as possible a better life and support the Center of the Prevention of Child Abuse, Habitat for Humanity and various other charities. Its annual concert has hosted everyone from Lynyrd Skynyrd and Sara Evans to Staind, Shinedown and Alter Bridge.

This past summer, the band headlined the Rock & Roll Express Tour alongside Collective Soul and Soul Asylum and performed for hundreds of thousands of fans with multiple sold out shows across the United States.

MUST BE 21 TO ENTER.