SCOTT STAPP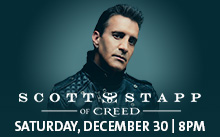 Scott Stapp to set the stage ablaze in Tulsa Dec. 30
Former lead singer of legendary group Creed, Scott Stapp is gearing up to bring an electrifying performance at Hard Rock Live inside Hard Rock Hotel & Casino Tulsa on Saturday, Dec. 30, at 8 p.m.
Having such a diverse skill set, Stapp's remarkable career has made a lasting impact on the music industry. Beyond Grammy Award-winning songwriting, Stapp showcases his talents through emotive vocals and captivating performances in his now solo journey. Notably, his role as the lead vocalist of Creed has cemented his status as a key figure in rock music, gaining global acclaim.
With a remarkable record of more than 53 million records sold and an impressive 1 billion streams, his influence is undeniable and reaches audiences across the globe. Stapp's ability to create melodies that resonate is emphasized by his 11 No. 1 singles. Currently, he's in the studio crafting a new album following the success of "The Space Between the Shadows," an album that soared to the top of rock and album charts in both the U.S. and U.K. As his journey continues, Scott Stapp's artistic legacy is set to inspire and enrich the evolving tapestry of musical history.
For more information on Scott Stapp, visit www.ScottStapp.com
For More Information Call: 918-384-ROCK
Will Call:5:00pm | Doors Open:7:00pm | Showtime:8:00pm