BRET MICHAELS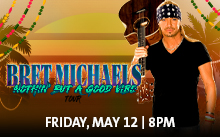 Bret Michaels is "Nothing But A Good Vibe" May 12
Bret Michaels, rock star, reality TV superstar, entrepreneur and philanthropist, is considered a "cultural touchdown" by music industry leaders. On Friday, May 12, he makes his long-awaited return to Hard Rock Live inside Hard Rock Hotel & Casino Tulsa for his "Nothing But A Good Vibe" tour, starting at 8 p.m.
Having a career that's spanned over 30 years, Bret Michaels has retained ownership and control of his own personal brand, solidifying him as a successful entrepreneur. He's most known for being the frontman of one of the 80s' most prolific bands, Poison, who racked iconic smash hits like "Every Rose Has Its Thorn," "Nothin' But A Good Time," "Talk Dirty to Me," the Loggains and Messina cover "Your Mama Don't Dance" and many more.
Since then, Michaels has produced and stared in record-breaking hit TV shows, "Rock of Love with Bret Michaels," "Life As I Know It with Bret Michaels" and Travel Channel's "Bret Michaels' Rock My RV." He's a "Celebrity Apprentice" winner, was voted "NBC Apprentice" fan favorite and launched a product from the show, Bret's Blend Trop-A-Rocka Diet Snapple Tea which became an instant hit with the public and has remains one of Snapple's bestselling flavors to date. His conglomerate Michaels Entertainment Group Inc. also oversees the entrepreneur's other business endeavors, such as his Bret Michaels Suite at Hard Rock Hotel Riviera Maya, a line of signature guitars and his Pets Rock Collection with PetSmart to name a few.

From raising awareness for Type 1 Diabetes that he has lived with his entire life to supporting the military as the son of a veteran, Bret puts as much passion in his charitable outreaches as he does his music, garnering him the title of Humanitarian of the Year two years in a row.
For more information on Michaels, www.BretMichaels.com
For More Information Call: 918-384-ROCK
Will Call:5:00pm | Doors Open:7:00pm | Showtime:8:00pm