DIANA ROSS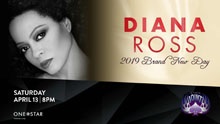 From her landmark solo career to the early days as the leader of The Supremes, Diana Ross shaped the sound of popular music, changing the landscape and paving the way to contemporary music. Over the span of 50 years, Ross produced 14 Top Ten albums, 18 No. 1 songs and music sales exceeding 100 million units around the world. The latest in a string of No. 1s includes a new remix of the 1971 classic, "Ain't No Mountain High Enough 2017" which topped the Billboard Dance Club chart this year.
In 2017, the American Music Awards presented Ross with the Lifetime Achievement Award. In 1993, she earned a Guinness World Record for her success in the United States and United Kingdom by having more hits than any other female artist on the charts with a career total of 70 hit singles.
Career milestones include induction into the Rock & Roll Hall of Fame, The Songwriters Hall of Fame, National Academy of Recording Arts & Sciences Hero Award, NAACP Entertainer Award, Billboard's Female Entertainer of the Century Award, The Soul Train Legend Award, two stars on the Hollywood Walk of Fame and received the American Music Awards Lifetime Achievement Award in November 2017.
Her portrayal of Billie Holliday in the classic film, "Lady Sings the Blues" resulted in an Oscar nomination and a trophy at The Golden Globe Awards. Co-starring as an aspiring designer in the 1975 romantic comedy, "Mahogany," Ross felt the role lent the perfect opportunity to personally sketch and design all the fashion in a timeless film.
As a stage actress, she won Broadway's top honor with a Tony Award for her one-woman show, "An Evening with Diana Ross." The same show was later broadcast as a special on television.
In 2016, President Barack Obama presented Ross with a Medal of Freedom Award, the most prestigious award given to a U.S. citizen.
MUST BE 21 TO ENTER