XTREME FIGHT NIGHT 6
Loading Results....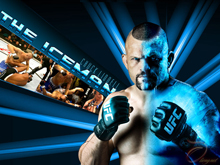 Xtreme Fight Night returns with it's most action-packed fight card to date, and will be hosted by UFC superstar Chuck "The Iceman" Liddell!
Liddel is one of the most popular champions ever in the UFC and is credited with bringing the sport mainstream acceptance and popularity with his exciting fighting style.

Headlining the card are a pair of championship fights that promise fireworks. Undefeated heavyweight kickboxing champion Randy "Boom Boom" Blake faces
one of the greatest American kickboxers in the last decade, Dewey "Black Kobra" Cooper. Blake is 20-0, winning his last three bouts by brutal knockout; Cooper
is the most skilled fighter Blake has ever fought, and in addition to his tremendous kickboxing credentials,he sports an 18-3 pro boxing record. The MMA main event
is a clash between two champions that has been building for four years. Reigning XFL welterweight champion Dylan "Savage" Smith battles long-time former champion Levi "The Marine" Avera.

Other featured fights include womens fighting sensation Jeri "Fists of Fury" Sitzes versus Anita "The Tiger" Rodriguez, Codale "Crunchtime" Ford versus Jonny "King of Late Nite" Carson, and Andrew "Sniper" Todhunter verses Brandon Newsome. Xtreme Fight Night in the Joint, the Ultimate fight night experience! MUST BE 21 TO ENTER.