RON WHITE .
Loading Results....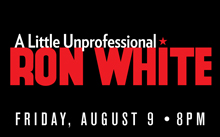 Comedian Ron "Tater Salad" White is best known as the cigar smoking, scotch drinking funnyman from the "Blue Collar Comedy" phenomenon. But with two Grammy nominations, a Gold Record, three of the top rated one-hour TV specials in Comedy Central history, a book that appeared on the New York Times Best Seller List, and CD and DVD sales of over 10 Million units, Ron has established himself as a star in his own right. Over the past 5 years he has been one of the top 3 grossing comedians on tour in the United States.
Ron has always been a storyteller; relaying stories from the time he was a boy growing up in a small town in the middle of Texas oil country to selling windows for a living in Arlington to performing in sold-out theaters and arenas as a headlining comedian all across the country. For two decades he lived the life of a struggling comedian bouncing around to comedy clubs and driving to gigs in his beat-up Nissan pickup truck to becoming a successful middle act club comic. He paid his dues. MUST BE 21 TO ENTER.
Ron White "200 Proof" VIP Experience!
Want a premium seat in the first 5 rows and to meet Ron White after the show? Wanna ask him a question? Take a picture with him? Just see for yourself if that's really scotch he's drinking? If your answer is yes, then purchase the Ron White "200 Proof" VIP Experience!
At the VIP experience you'll be a part of a small group of fellow fans talking with Ron White and taking a photo with him. Not only will you get this special access after Ron's show, you'll receive a VIP access pass personally signed by Ron White.
Check out this video of other fans having a great time at Ron's 200 Proof VIP Experience: https://www.youtube.com/watch?v=MWxFB1zKDa4&feature=youtu.be
Package Includes:
- Seat Ticket in First 5 Rows
- Q & A session with Ron White
- A photo with Ron White
- VIP access pass personally signed by Ron White
- 1 year Fan Club membership to The Rontourage
http://tatersalad.com/tour/vip/5460
MUST BE 21 TO ENTER.